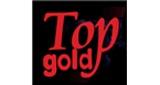 Top Gold Radio është një stacion radio transmetimi në Tiranë, Shqipëri, që ofron muzikë Classic Rock, Pop dhe R&B Hits. Dëgjoni Top Gold drejtpërdrejt në 100.8 FM, stacioni kryesor në Shqipëri për këngët më të suksesshme 24 orë në 7 ditë të javës.
---
Top Gold is a broadcast radio station in Tirana,
Albania
, providing
Classic Rock
, Pop and R&B Hits music.It is an Albanian radio station with 20 years of experience in broadcasting, since 1999.
TOP GOLD RADIO - JUST MUSIC, NO INTERRUPTIONS

Address : Informacionin per Publicitet ne Top Gold Radio mund ta merrni duke shkruar ne kete Adrese : topgoldradio100.8@gmail.com
Email : info@topgold.al
🎶🎶🎶 👍
live
Average rating:
1 reviews
Nov 25, 2020
Radio e kendsheme!Ketu, ke mundesi te ndegjosh muziken e arte qe nuk vdes kurre. E ndjek me shume kenaqesi programin e saj. Faleminderit.