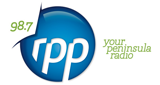 RPP FM is a community radio station in the Mornington Peninsula region of Victoria, Australia. The radio station was established in 1984 to provide a local community radio service to the region.
---
RPP FM is a
radio station
with a focus steeped in community activities and culture. It broadcasts on 98.7 FM and 98.3 FM to the Mornington Peninsula.
---
The main transmission frequency in the Mornington Peninsula, from a site at Arthur's Seat is 98.7 MHz, however an additional frequency was allocated in the Frankston City area on 98.3 MHz to allow for reception in an otherwise blackspot area. 3RPP however promotes both frequencies with equal prominence on its
website
.
Address : 91 Wilsons Road (Cnr. Nepean Highway) Mornington, Victoria, Australia
Email : [email protected]
🎶🎶🎶 👍
live
Average rating:
0 reviews