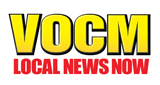 570 VOCM is a broadcast radio station in corner Brook, Newfoundland, Canada, providing Community News, Talk and Country music.
---
VOCM Radio and VOCM.com Two effective and efficient ways of reaching new prospects and customers for your business.
Address : 1B Cobb Lane Corner Brook, Newfoundland and Labrador A2H 2V3
Email : Emailcbfrontdesk@vocm.com
🎶🎶🎶 👍
live
Dec 15, 2020
I really enjoy this station! Great talk radio and so informative.
Dec 15, 2020
Love your talk show