Magyarország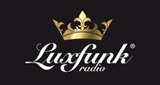 A Luxfunk Radio az első és az egyetlen internetes rádió Magyarországon, amely magas színvonalú Funky zenét játszik. Elsősorban klasszikus funkyt, rapet, soulot és rnb-t kínálnak. Az elmúlt három évtized legjobb dalait a nap 24 órájában játsszák. Ez a Luxfunk Rádió fő állomása. Itt hallgathatja meg Funk, Soul, RnB és Hip-Hop klasszikusokat és különlegességeket, mi több, sok adaptációt. A rádiók alapstílusa a Funky és a Soul, mert szeretjük és tiszteletben tartjuk a hangszerek mögött álló tehetséges zenészeket.
---
Luxfunk Radio is the first and the only Internet radio in Hungary that plays Funky music of high standard. Primarilly they offer you classical funky, rap, soul and rnb. The best songs of the last three decades are being played 24 hours a day. This is the Luxfunk Radio's main station. Here you can listen to Funk, Soul, RnB and Hip-Hop classics and specialities, what's more, a lot of adaptations. The radios's basic style are Funky and Soul, because we love and absolutely respect the talented musicians behind the instruments.
Address : Cím: EU, Magyarország, 1182 Budapest, Kétújfalu u. 58.
Email : [email protected]
🎶🎶🎶 👍