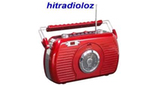 Hitradioloz uit Leiden is een Internet Radio-zender uit Leiden, Zuid-Holland, Nederland, biedt Classics, Top 40 / Pop muziek.
---
The very first broadcast as an internet radio station was on Sunday March 28, 2010.
Hitradioloz from Leiden started to be precise on Wednesday, April 7, 2010 at 6:56 PM.
Hitradiolozcan also be heard via the TuneIn app,
smartphone or tablet download TuneIn App Store / Google PLay!
🎶🎶🎶 👍