United States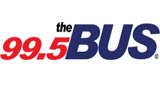 The Bus - WBUS FM 93.7 is a live Radio Channel from Boalsburg, Pennsylvania, United States. 93.7 The Bus providing Rock, Hard Rock, Metal and Hardcore Music.
---
Originally on 94.5, the WLTS call sign and format moved to 99.5 while 94.5 became WBHV. 99.5 was originally a class A station licensed to the town of Mount Union using the call sign WXMJ. On January 22, 2019, WMAJ-FM's CHR format moved to WBUS 93.7 FM Boalsburg, swapping frequencies with classic rock-formatted "The Bus" and the station assuming the WBUS call sign.
🎶🎶🎶 👍
live
Average rating:
1 reviews
Oct 5, 2021
I love your radio! I just have a wish to hear more 80s Metal like Yngwie Malmsteen, Iron Maiden, Judas Priest, and other like artist! Thanks for being a great radio station!