United States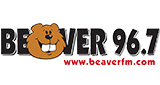 Beaver 96.7 - WBVR-FM is a broadcast Radio station from Bowling Green, Kentucky, United States, providing Country, Hits, Pop and Bluegrass Music.
---
Shows: The
Lia Show, After Midnite, Drive home, Jessye Lynn, Shannon Presley, The Gen-u-wine Country Club ----- Hosts: Danny Kutrick, Blair Garner, Jason Evigan, Shannon Presley, Auburn Ky
---
Get the Beaver app
and stay in touch with your Beaver friends and #1 country wherever you are. Beaver 96 point 7's app is your source for WBVR #1 Country!
Address : 1919 Scottsville Road Bowling Green, KY 42104
Email : Emailwebmaster@beaverfm.com
🎶🎶🎶 👍